From his campaign trail rhetoric to bringing fossil fuel industry tycoons into the United States government, President Trump has made it clear that a top priority for his administration is to dismiss climate change and the critical importance of transitioning to an alternative energy platform for our economy.  Among the executive orders signed in the first week of his administration were orders reviving the highly disputed Energy Transfer Partners Dakota Access and TransCanada Keystone XL oil pipeline initiatives and fast tracking environmental reviews and other infrastructure projects. The orders are based on the myth that these projects will create jobs – leading to criticism from the environmental and scientific communities, not to mention the Standing Rock Sioux  and other Native American tribes. These policies reverse nearly a decade of work, making the U.S. a global leader in the fight against climate change. These pipelines, no matter how they are framed, spell trouble both for our economy and our climate.
2016 was the hottest year in recorded history. Despite the consensus of the global scientific community, Trump and his GOP comrades continue to claim that anthropogenic climate change is not a concern, going so far as to claim that it is a myth perpetuated by the Chinese government in order to damage American economic interests. Trump has pledged to dismantle the Paris Agreement, which commits the nations of the world to prevent global temperature from increasing by two degrees Celsius. Donald Trump also has the illusion that we can safely build the 1,172-mile Dakota Access pipeline stretching from North Dakota to Illinois and the 1,179-mile Keystone XL pipeline – the fourth phase in the Keystone Pipeline project– stretching from Hardisty, Alberta, Canada to Steele City, Nebraska, ultimately connecting Canadian production to U.S. Gulf coast refineries and export terminals.
While the U.S. and Canada will take every precaution necessary for conventional oil transport, traditional measures are not as secure with tar sands diluted bitumen, a much more corrosive oil product planned for transport through the Keystone XL. In just its first year, the Keystone 1 pipeline has endured numerous oil spills, including a 21,000 gallon spill in April 2016, costing nearly $1 billion in damages in the U.S. alone. This is a far cry from Trump's claimed priority of maintaining clean air, water, and natural resources. It will increase North American greenhouse gas emissions due to the energy-intensive process of extracting the Canadian oil sands, an action which violates the Paris Agreement in and of itself. Emissions will also create health risks and further climate deterioration. If that wasn't enough, the lack of job creation and deeper economic implications such endeavors would create only add to the negative consequences these pipelines would impose on our country.
Will there be a significant jobs boost from these construction projects? The short answer is no. President Trump has claimed that the Keystone XL pipeline would create 28,000 good construction jobs, however in a State Department report, only 35 full-time jobs and approximately 3,900 short-term construction jobs would be made available. According to the report, only 0.02 percent annual economic job activity would be created, numbers nowhere near the #alternativefacts given by the President. Quite to the contrary, investing in alternative and clean energy will have a more significant impact for job creation. According to the U.S. Department of Energy's Second Annual National Energy Employment report, energy efficiency jobs increased by 133,000 jobs from Q2 2015 to Q1 2016 for a total of 2.2 million, with the solar workforce increasing by 25% and wind employment increasing by 32%.

Therefore, job creation by alternative energy investments is real, as opposed to the controversial and uncertain stipulation by Trump that he will require that all steel used in the pipeline projects be manufactured in the U.S.  In reality, most steel manufacturing for these projects has been contractually outsourced already to other countries, notably India and Russia, and back-tracking from these commitments is far from certain.
The idea that these pipeline projects, particularly Keystone XL, would make the U.S. more energy independent is also a farce. In effect, these projects will boost Canada's oil exports to the U.S.'s, bringing 700,000 and 830,000 barrels of oil per day to Texas for refining. The U.S. will become more reliant on this fossil fuel influx, prolonging carbon emission pollutants and delaying our nation's path towards greener energy. Therefore, increasing Canadian fossil fuel dependence will come at the expense of U.S. energy independence, with great risks to the environment form potential leaks, pipeline erosion and risk of polluting land and waters, a fact that faces strong opposition from the Native-American communities but also from landowners and producers throughout the lands to be crossed by the pipelines, not to mention the impact that the exploitation of the oils sands will have in Canadian territory and globally.
The increase in production will also hurt American consumers. With greater supply from Canada comes greater demand in global markets followed by an increase in oil and gas prices domestically. Who will this affect the most? The answer, American and Canadian motorists, but also the American Midwest, which would see an increase in crude oil prices by nearly $2-$4 billion annually. According to a Cornell University study, consumers in the Midwest could end up paying 10 to 20 cents more per gallon. These price increases will then cancel out any jobs created by the pipeline project.
Now that we know that the pipelines will do little to help the U.S. job market and economy, we must question why Trump and the GOP would not be open to greater investment in sources of energy that could maintain our status as a global power in energy. Do they not realize that the solar industry alone has seen a 186 percent job increase in the last five years? A study by the International Renewable Energy Agency found that in 2015, global renewable energy jobs rose to 8.1 million, an increase from 7.7 million in 2014 due to key investments in solar, biofuels, and wind power.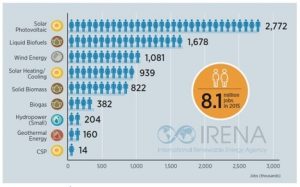 We already know that most Republicans do not believe that climate change exists. However, if Trump and his administration were actually concerned about building the economy and solidifying our energy independence, why would they not look to an industry that has the growth potential to sustain our economy for generations to come? Why are they instead using a short term fix that will only fill the pocket books of themselves and the immediate investors.
Both economically and environmentally, the Keystone XL and Dakota Access pipelines will not benefit the U.S. Yes, the U.S. needs fossil fuels to maintain the current energy grid structure in the short and midterm. However, to ensure that the U.S. stays on the forefront of world energy production and efficiency and continues to be a global financial power, while increasing the standard of living of our citizens, the clear choice is renewable energy.
Leopoldo Martínez tweets at @lecumberry
(Sources of the two graphics in order of appearance: U.S. Energy and Employment Report, January 2017 and International Renewable Energy Agency, 2015)
(Photo by Eric Fierro/ Ocetisakowin Camp)