Could the USA be left out from Nafta? Unlikely. But there is a catch.
The third round of negotiation on NAFTA is set to begin on September 23. Negotiators from Mexico, Canada, and United States, are looking forward to accelerating the process. They aspire to conclude a revamping of the agreement by the end of this year avoiding foreseen obstacles ahead, particularly the 2018's electoral calendar in Mexico and the USA. How close are we to a renewed NAFTA then? We forecast that a successful renegotiation of the agreement this year is practically impossible. But also a withdrawing of the US seems improbable. And here is why:
Donald Trump's rhetoric overshadowed the second round of negotiations. In August, President Trump tweeted that NAFTA was the "worst trade deal ever made," and threatened to withdraw the United States from the agreement because Canada and Mexico are being "difficult." Then he oddly asked: "May have to terminate?" These brief comments have worsened the relationship with America's trading partners as well as undermined the intricate work of the American negotiators. The president created a level of uncertainty that cast a shadow of doubt on the negotiator's authority, precisely when they were conducting serious technical conversations.
Since the trade representatives know each other well, they tend to brush this kind of statements off, to focus on the long-term, strategic goals. Insiders to the negotiating process assert that everybody at the table believes that the tweeting storm will pass and that presented with a well-grounded document, Mr. Trump will also fall in line with those long-term goals.
Although Trump's rhetoric is an obstacle, business people in North America and politicians in the US Congress involved in this issue almost universally share an awareness about the benefits of Nafta for Canada, Mexico, and the USA. And this has created tension. Uncertainty is the primary source of this tension. Trade agreements create a system of policy predictability that allows investors plan their strategies, which is what is in jeopardy here. Indeed, the process's complete uncertainty is unprecedented. Trade agreements are difficult to achieve but when done are acclamations of alliances, but with Nafta, we see the opposite. And we saw that same negative view of commerce with the Trans-Pacific Agreement as well as with the trade agreement with South Korea.
There is a disconnect between what you can hear from the leadership in Congress and what Trump tweets. For example, listen to House Homeland Security Committee Chairman Michael McCaul. A Republican from Texas, Congressman McCaul has stressed the tension that undermines this negotiation process by presenting a compelling economic case in favor of Nafta that is visible for all parties, and that is entirely at odds with president Trump's bombastic approach.  McCaul fears that President Trump's antagonistic strategy towards Mexico might give motives to its neighbors to explore better opportunities in China if relations with the US worsen. And that will be a hard blow for the US, but especially for his Texas constituency. Just look at the following graphic.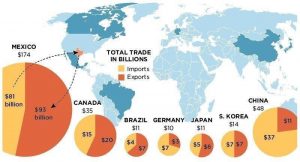 The Texas-Mexico market worth is US$ 175 billion with a positive balance for the US. Texas exports to Mexico amounted to US$ 93 billion and US$ 20 billion to Canada.
Nafta has expanded USA's energy market.  Consider that the US exports 60% of its natural gas production to Mexico. And this is new for Nafta thanks to Mexico's historic energy reforms in 2013 that opened the country's market to imports of US natural gas, petroleum products, and electricity. According to David Goldwyn, an energy specialist at the Atlantic Council, the results have been phenomenal and particularly favorable to the United States. Although the US-Canada energy trade balance favored Canada by approximately $39 billion in 2016, the value of US energy exports to Mexico is now double that of US imports from Mexico. US-Mexico energy trade is poised to grow further, favoring greater US natural gas and product exports and increased investment in Mexico's energy sector.
Despite its apparent benefits, Nafta has been toxic politically, especially in states like Pennsylvania and Ohio. According to a Gallup's poll, roughly half of the American public (46%) agrees with Trump and believes NAFTA is a bad deal for the USA. From 1997 to 2004, there was essentially no gap in Republicans' and Democrats' views of NAFTA, but it has since become a divisive political campaign issue, and a large partisan divide now exists. Approximately 67% of Democrats say NAFTA has been good for the country, in contrast, only 22% of Republicans hold a positive view.  Young people tend to favor Nafta.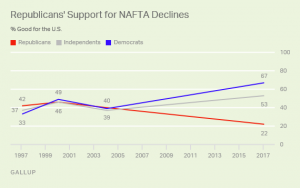 Less than half of Canadians supported Nafta when their government first signed in 1994. Surprisingly, today a substantial majority (71%) support the agreement, 40% believe it has benefited Canada vs. 27% who feel it has hurt the country.
Mexicans are also very skeptical about NAFTA, with only fifty percent believing that the agreement has benefitted Mexico. A survey shows that 44% fears a renegotiation would only bring advantages to the United States. Only 11% think this process will benefit Mexico, while 41% believe will be good for both countries. Most Mexicans, 80%, think Mexico would be better off diversifying and seeking other markets.
The Mexican and American public are more clearly divided over NAFTA than Canadians. Also, their government's objectives compete and are sometimes contradictory. Canada is seeking an openly liberal agenda that includes strengthening labor safeguards, integrating enhanced environmental provisions and adding chapters on indigenous rights and gender equality. Mexico wants to improve the trade relationship with the United States and restore confidence in its markets. Mexicans propose to simplify customs procedures, grant more seasonal entry permits, include chapters on energy and digital trade and breakdown non-tariff barriers to trade. Trumps wants to sell and buy more American and reduce immigration. Usually, governments take at least one year and a half to settle trade agreements. With objectives as diverse, it would be almost impossible to renegotiate within the ambitiously short schedule of fewer than six months. And a failure to stick to this desired schedule makes a successful modernization of the deal less likely.
A difficult part of the negotiation is reforming Chapter 19, the Investor-State Dispute Settlement process. It is one of the dispute mechanisms of the agreement. Chapter 19 allows investors to sue foreign governments, and have been invoked 59 times under NAFTA. When the Trump administration imposed a 20 percent import duty on Canadian softwood lumber, Canadian exporters were entitled to appeal to an independent court to review the legality of the measure. The United States has vowed to remove the provision from NAFTA. Canada may be willing to accept amendments to Chapter 19, but only if the United States is ready to address the protectionist tone of the "buy American" legislation.
If the United States is not open for business, Mexico and Canada are ready to explore other regions of the world. With more than 80% of its exports going to the USA and 45.6% of its imports coming from the United States, for Mexico, it is of strategic importance.  When the second round of Nafta negotiations was wrapping up, president Enrique Peña Nieto just concluded a business trip to China. It could not have been more timely. Mexicans struck a deal with the Chinese e-commerce company Alibaba to incorporate Mexican companies into Alibaba's commercial operations.
Finally, can Trump legally withdraw from the agreement? Firstly, according to Article 2205 of NAFTA, if a country wants to leave it have to give six months' written notice. Secondly, under the Commerce Clause of the US Constitution, the power to approve, and to terminate US participation in trade agreements belongs to the American Congress. Before even thinking about pulling out of the deal Trump needs to guarantee congressional approval. If he rather decides to proceed by executive order,  his administration is likely to be sued again, this time by American exporters and consumers or any member of Congress for that matter.
Despite its shortcomings, Nafta could prove to be a very resilient trade framework. The US has a lot at stake because trade agreements give US exporters of goods and services a level playing field to compete. Without Nafta, the US could be simply left behind.